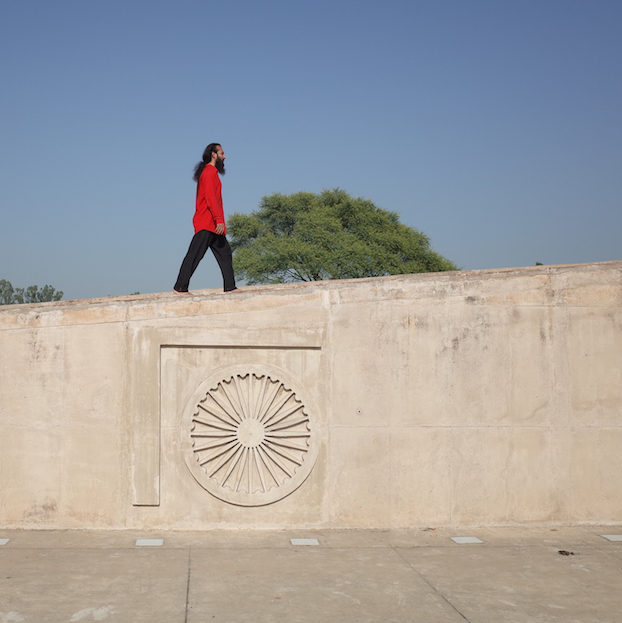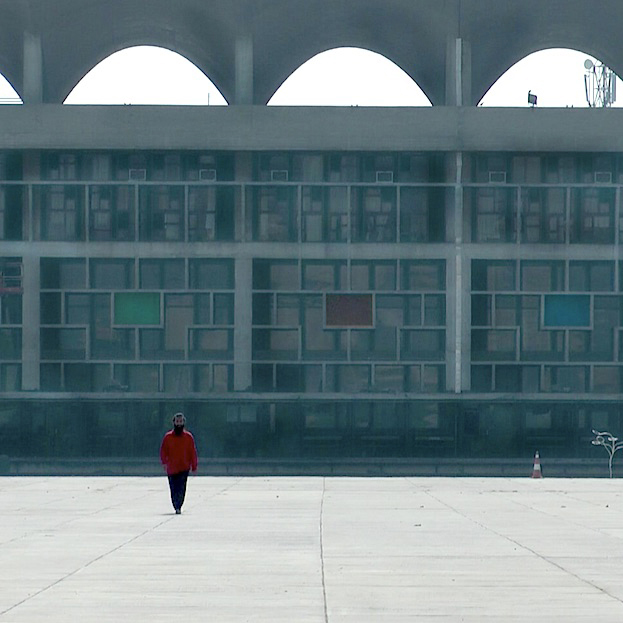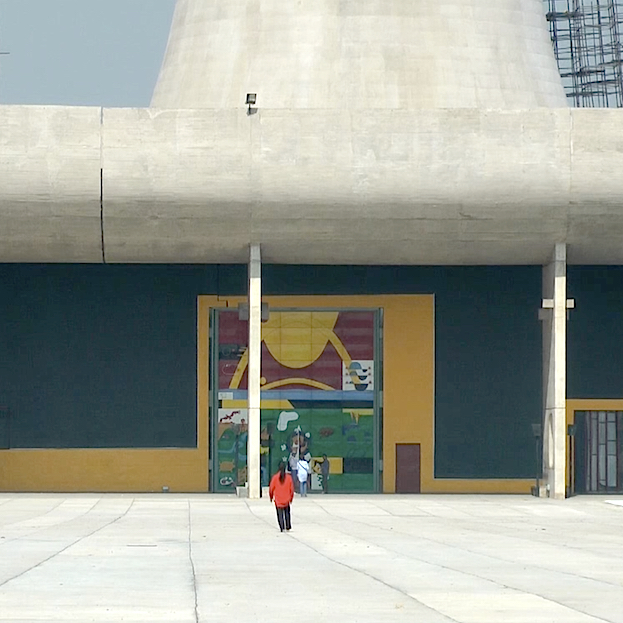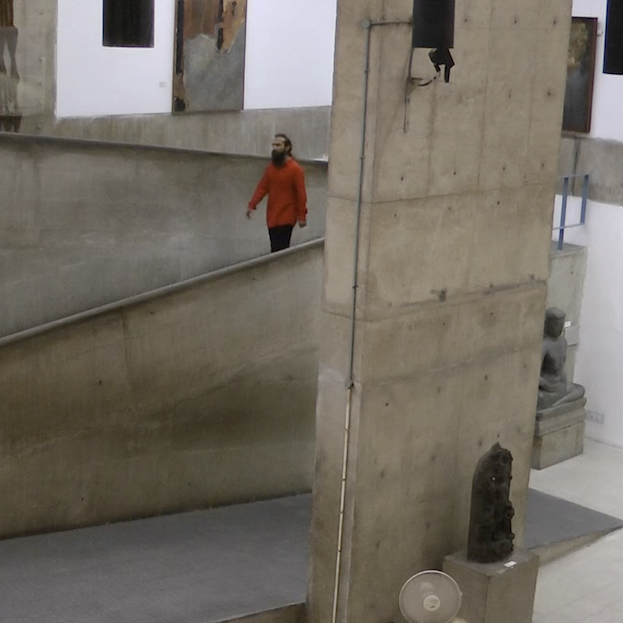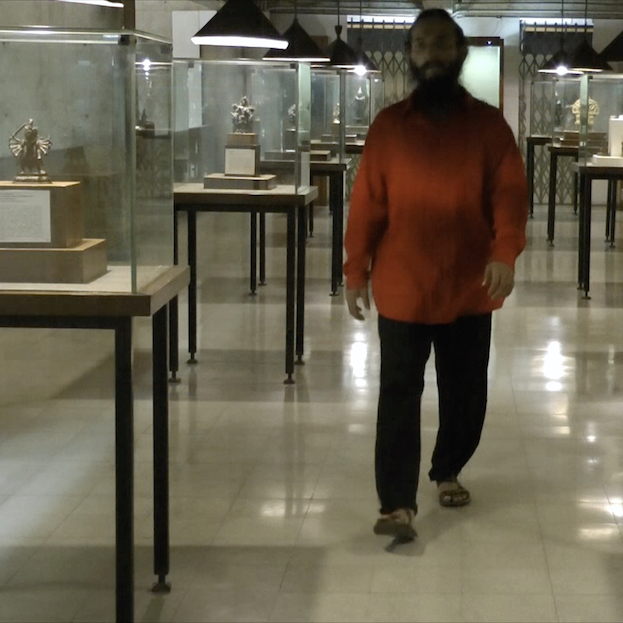 The Machine Stops
The Machine Stops is a speculative fiction parable about the end of the world with a narrative adapted from E. M. Forster and decor by Le Corbusier (shot in Chandigarh, India). A narrative collision between a story written in 1909 (The Machine Stops) and a utopian city constructed in 1960s post-partition India (Chandigarh) becomes a reflection on our imagined opposition of designed world and nature. This is part of our contemporary crisis of pessimism about the survival of the human-made world. In Forster's humanist pessimism resistance to the machine is a heroic venture and a cultured ideal of nature and the body is a coherent surround or source. In this new work, Forster's nostalgia for an arcadian state of nature morphs into a contemporary conundrum where there is no longer an outside 'nature' to escape to or a coherent 'body' to claim as primal. A single character (played by Ameer Fawaz Hamsa) walks relentlessly through the interior and exterior spaces of an empty modernist landscape. He is the porteur of the narrative. A voice over narration is composed of combination of the text from E.M. Forster and Le Corbusier. The Machine Stops has two versions: 1) a two-screen video installation with a sculptural element reproducing le Corbusier's podium in the 'Trench of Consideration'at Chandigarh; 2) a multi-episode web version released during 2020.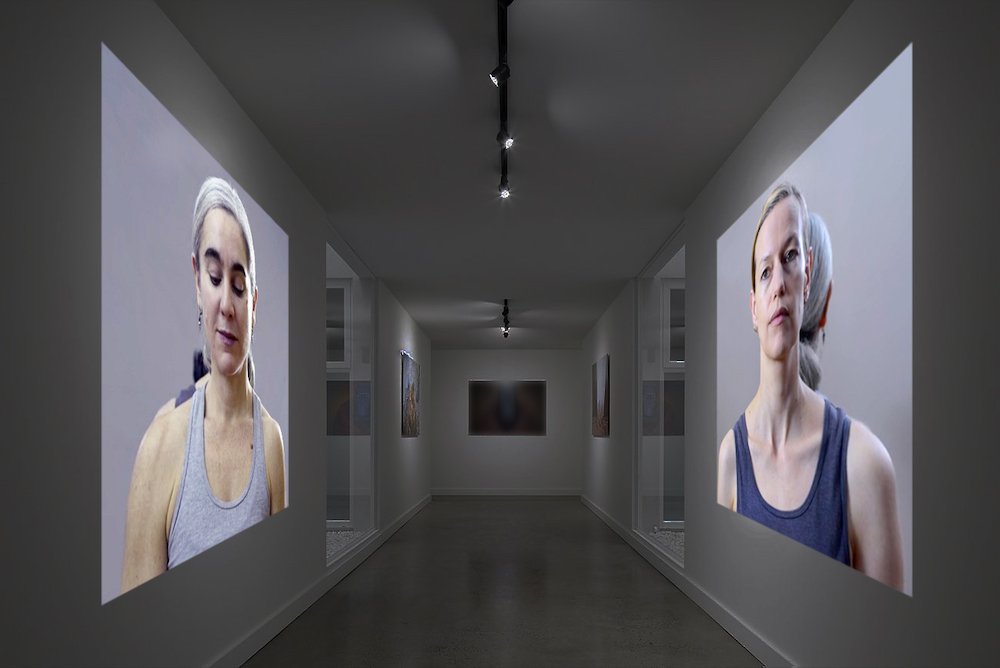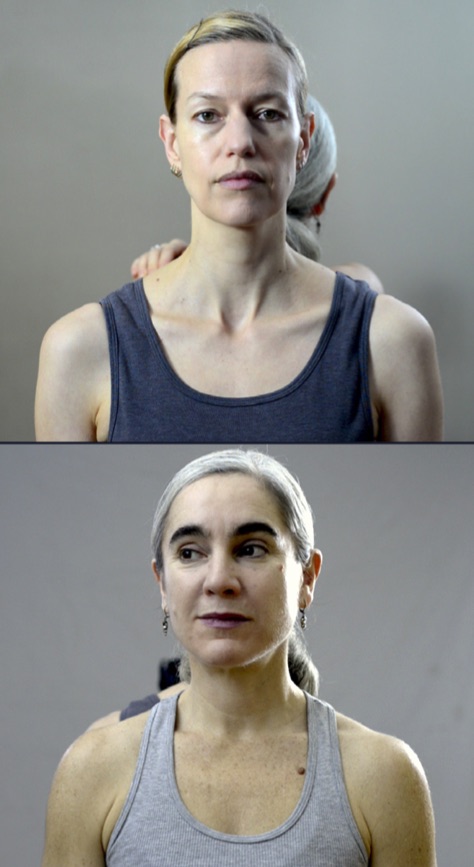 Geste
Two dancers (Suzanne Miller and Magali Stoll) perform a choreography which they both know. However they attempt to perform it without moving. In sports we commonly call this activity 'visualization', though it does not seem like a visual activity. What is a gesture before it becomes a movement? Research in neuroscience suggests that the neural development comes directly out of the organism's need to navigate or punctuate space and time with movement. Thought is movement, or possibly a rehearsal for it. Our fascination with watching people and animals in motion may come from this. This piece takes the idea that thought and physical movement are two isolatable components of gesture or making meaning in space and time. This deliberately clumsy separation echos Thomas Hobbes's apparently ridiculous claim that the origin of all thought, movement or emotion is in some kind of vital internal movement. There are two versions of this piece: One where the dancers perform back-to-back - images of each performer are projected onto opposite walls (they face each other). The other installation has large side-by-side projections in a corner, with an additional sound and video element being violinist Malcolm Goldstein improvising with the non-movement of the performers (not shown).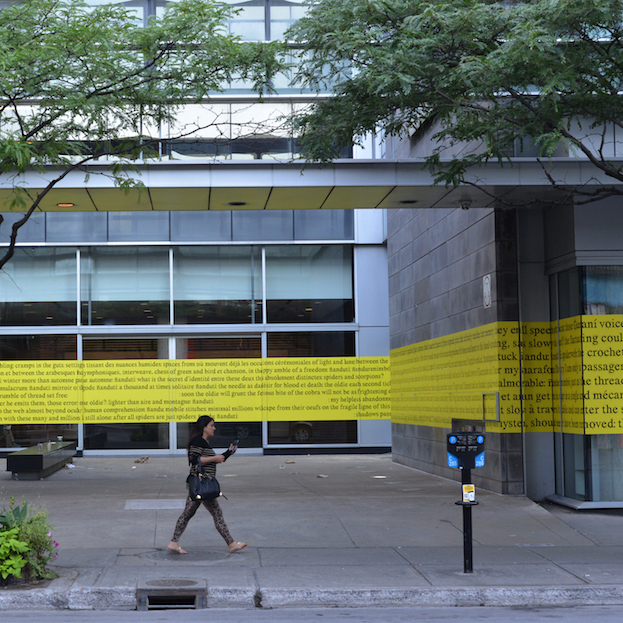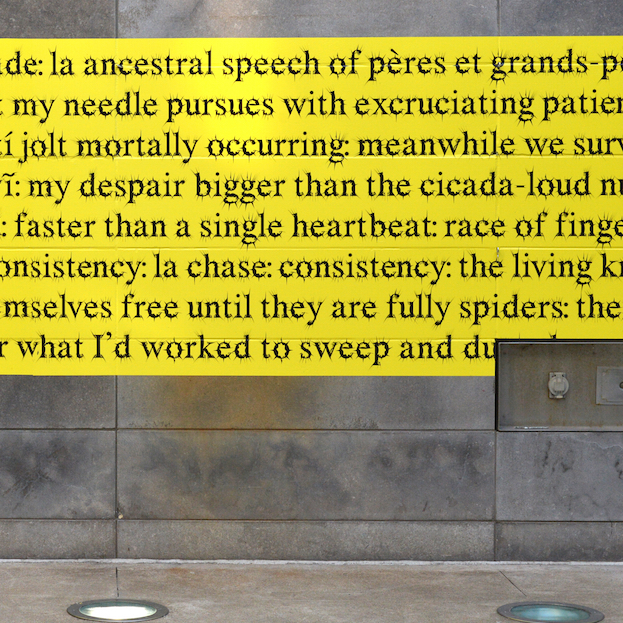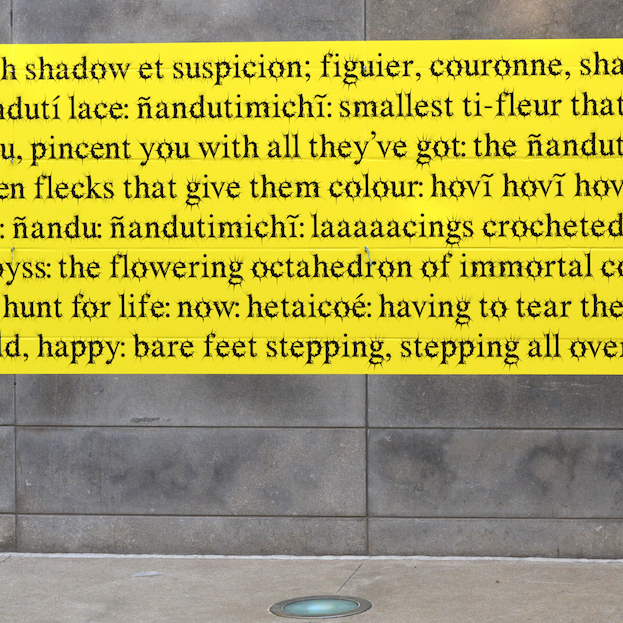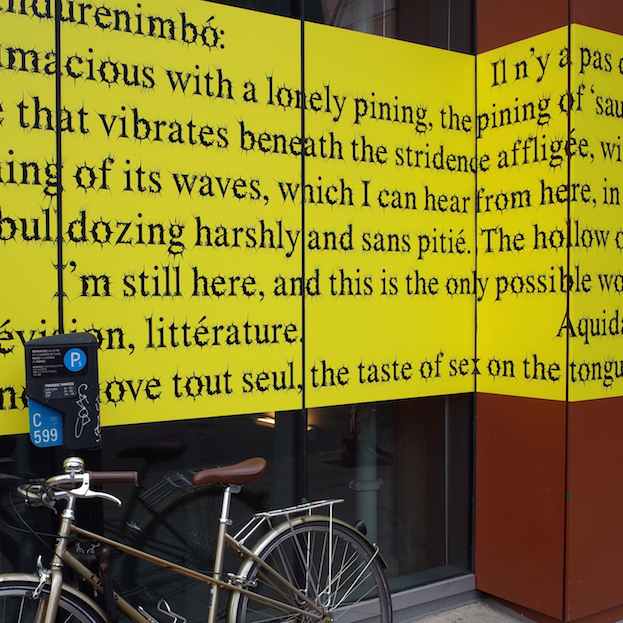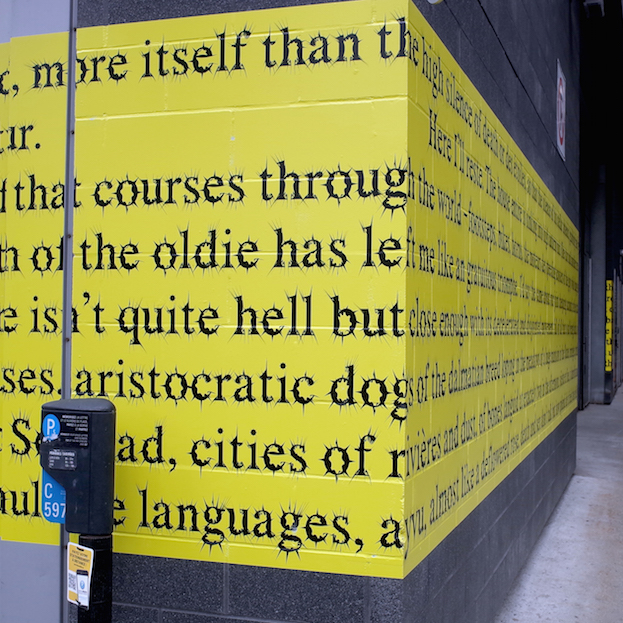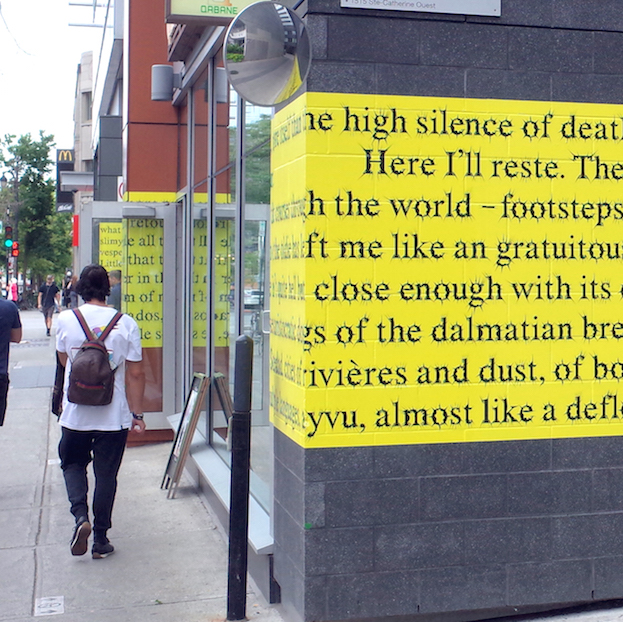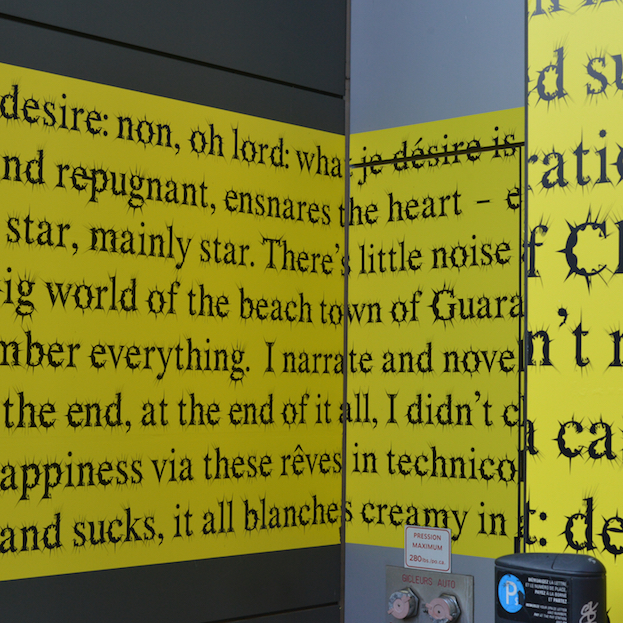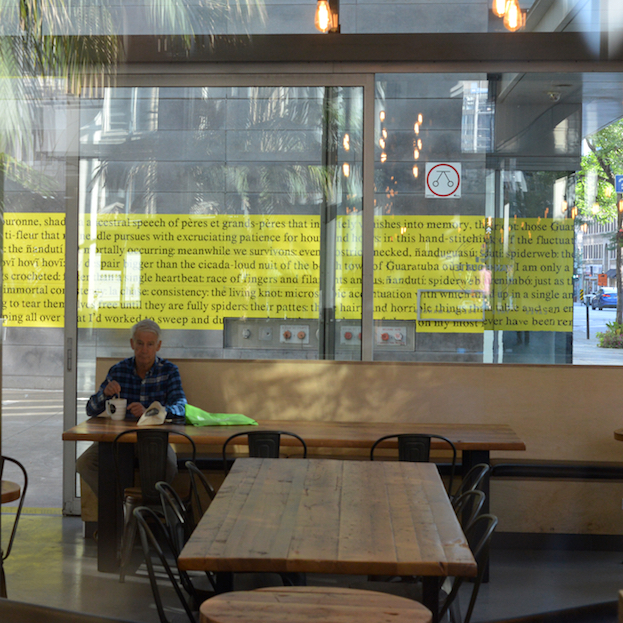 Paraguayan Sea
Mer Paraguayenne is a collaboration with Montreal-based poet Erín Moure on the exterior of Concordia University's EV building on Ste-Catherine St. in downtown Montreal (2017-18). Installation and 'Iguana' typeface by Andrew Forster with Moure's translation of Wilson Bueno's Mar Paraguayo. Wilson Bueno wrote several books fundamental to contemporary Brazilian literature including Bolero's Bar (1986)and Cachorros do Céu (2005). Mar Paraguayo (1992) is a work of Bueno's written in a mixture of three languages: Portuguese and Spanish (or Portunhol) and Guaraní (the most common language of the Paraná region,an official language of Paraguay and one of the most widely spoken indigenous languages of the Americas).In living use Guaraníis often 'code switched' with Spanish and Portugues mixes with Spanish as Portunol. In Mar Paraguayo the narrator drifts dreamily through both lingustic and gender surfaces while embracing physical decline in the Paraguayan sea town of Guaratuba, Brazil. Moure's translation for the Montreal street is into Frenglish (an English inhabited by French) while leaving the original Guaraní in place. The yellow band of text (1.5m x 70m) wraps around the ground floor of the building. The text can be read continuously by walking around the building, and then re-circling to find a line left off a block away. Or it can be burrowed-into at any point.
Erín Moure's translation of Mar Paraguayo is published by Nightboat Books, NYC (Paraguayan Sea, October 2017).